Colt's Manufacturing Company LLC and LaserMax partnered together to present the CenterFire laser for the Colt Mustang. The CenterFire laser mounts directly and seamlessly to the trigger guard on the Mustang, without the necessity of changing any parts or altering the pistol in any way.
The Colt Mustang Pocketlite is a small, lightweight handgun, and ideal for personal protection. The precise machining process, use of high quality materials and improvements in design make Colt's new .380 Mustang Pocketlite one of the most consistent and reliable firearms on the market. The stainless steel slide and barrel are CNC machined from solid bar stock for precise tolerances. With loaded magazines, these handguns weigh less than one pound. They measure 5.5 inches long and have a 2.75-inch barrel.
High Profile Sights
Commander Style Hammer
Solid Aluminum Trigger
Lowered Ejection Port
Stainless Steel Slide
2 ¾ inch Barrel Length
Two 6 Round Magazines
LaserMax CenterFire Laser for the Colt Mustang
The constant red laser beam sits just under the bore, providing the highest level of accuracy while also preventing the shooter's finger from blocking the beam. Controlled Activation allows for ambidextrous use, including an on/off switch that turns the beam on only when needed. The CenterFire laser comes factory aligned at 10 yards and is user adjustable.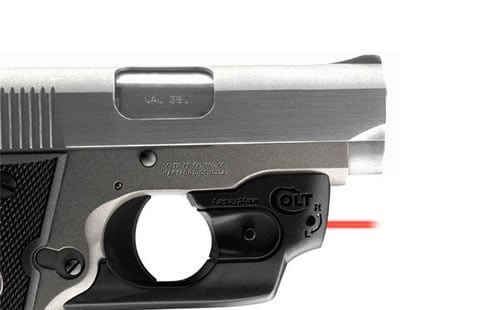 Wavelength: 650 nm (Red)
Power output: <5mW
Battery: 1/3 N Lithium (1) included
Battery Life: Over 5 hours
Adjustment: Factory aligned at 10 yards, user adjustable for windage and elevation